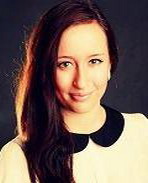 Diana RAČKOVÁ
MSc. student




MSc. study
Supervisor: Karol Hensel
Consultant: --
Title:
Tar removal from gas exhaust by combination of plasma and catalyst
Abstract:


Bc. study
2016 - 2017

Supervisor: Karol Hensel
Consultant: Richard Cimerman
Title:
Naphtalene removal by combination of plasma and catalyst
Abstract:
Biomass differs from others renewable energy sources by the possibility of its targeted agricultural production. The most effective way to generate energy from the biomass is its gasification, that leads to production of syngas, that besides the desired gaseous components also contains ash, sulfur and nitrogen oxides and most importantly tars. Tars are a mixture of condensable hydrocarbons, usually aromatic compounds with one or more benzene rings and they may cause many technical issues in combustion equipment and have negative effects to environment and to humans. Syngas contaminated by tars cannot be used for energy production and therefore effective methods of tar decomposition have been sought. In this work, we focus on removal of tars by combination of plasma and catalyst. We constructed two identical types of reactor utilizing dielectric barrier discharge one with and one without a catalyst (TiO2 pellets). In both reactors we monitored chemical changes induced by the discharges as a function of gas mixture, composition and temperature, and amplitude and frequency of the applied voltage. We evaluated efficiency of decomposition of naphthalene, used as a model tar compound, in both reactors and analyzed by-products of its decomposition by FTIR spectroscopy. Results showed efficient decomposition of naphthalene by plasma to carbon oxides, water and solid product. Plasma catalytic system showed even better efficiency. The results proved that plasma in combination with catalyst is an efficient tool that can be used for syngas cleaning from tars and even other toxic compounds.
Active
Daniela BARTKOVÁ

Mária CÍBIKOVÁ

Richard CIMERMAN

Paulína HALUŠKOVÁ

Mostafa E. HASSAN

Axel HENNECKE

Patrícia IVANOVÁ

Daniel JAKUBČIN

Katarína KUČEROVÁ, born Tarabová

Eva KYSEĽOVÁ

Emanuel MAŤÁŠ

Robin MENTHÉOUR

Dominika MIHÁLIKOVÁ

Gervais B. NDIFFO YEMELI

Slavomir PÁSZTOR

Marek PAVLE

Diana RAČKOVÁ

Martin SELVEK

Dominika SERSENOVÁ

Barbora TARABOVÁ


Alumni
Hana BUCHHOLCEROVÁ

Veronika DRENINOVÁ, born Biskupičová

Lukáš DVONČ

Július GÁLIK

Dušan GIERTL

Lenka CHLÁDEKOVÁ

Karolína JANÍKOVÁ

Igor JEDLOVSKÝ

Matej KINTLER

Matej KOVÁČ

Zuzana KOVAĽOVÁ, born Šipoldová

Daniela KUNECOVÁ

Lenka LEŠTINSKÁ

Michal LEŠTINSKÝ

Pavol MIŠENKO

Matej MOLNÁR

Adriana NIKLOVÁ

Samuel OMASTA

Lucia PAKOSOVÁ

Michal PELACH

Adam POLAKOVIČ

Branislav PONGRÁC

Milan PRAČKO

Jozef SIČ

Lucia STRIŽENCOVÁ

Anna SUČANSKÁ

Juraj ZIGO

Andrea ŽILKOVÁ