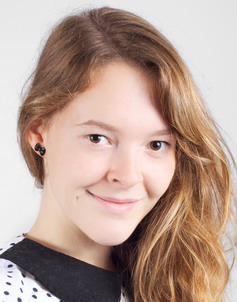 Paulína HALUŠKOVÁ
alumni student




MSc. study
Supervisor: Zdenko Machala
Consultant: Julia Bandow
Title:
Effects of cold plasma to heme-dependent enzymes
Abstract:
This work focuses on long-term goal to gain an in-depth understanding of the mechanisms of interaction between proteins and different gas plasmas needed for plasma biomedical applications. The objectives of this work are to compare the effects of two air plasma sources - dielectric barrier discharge (DBD) and transient spark (TS) on heme-dependent enzymes KatE, KatG, EfeB and Scdyp2. Enzymes were purified by immobilized metal ion affinity chromatography and treated with DBD up to 10 min or up to 5 min with TS. After the plasma treatment, concentration assay, activity assay and UV-VIS spectroscopy were realized for evaluation of the differences of the effects between the enzymes and between different plasma discharges. Results showed that KatE is the most resistant enzyme, because after 5 min of plasma treatment with DBD it was fully active and after 10 min of the treatment with the same discharge it still had 70% of the remaining activity. Enzyme Scdyp2 was inactivated in the shortest time. After 5 min of treatment with DBD it had only 13% of remaining activity and 10 min of plasma treatment caused its total inactivation. The energy consumption of TS per 1 ml of a treated sample was 1.25 times higher than for DBD, therefore the effect of TS on these enzymes was slightly stronger. Besides many interesting results, for better understanding of the effect of cold atmospheric plasma on proteins, structural analysis of the treated enzymes is needed.

Bc. study
2016 - 2017

Supervisor: Zdenko Machala
Consultant: Katarína Sobolíková
Title:
Testing of the effects cold plasma and plasma activated water with parodontitis therapy
Abstract:

Active
Mária CÍBIKOVÁ

Richard CIMERMAN

Mostafa E. HASSAN

Axel HENNECKE

Patrícia IVANOVÁ

Daniel JAKUBČIN

Katarína KUČEROVÁ, born Tarabová

Aleksandra Y. LAVRIKOVA

Emanuel MAŤÁŠ

Robin MENTHÉOUR

Dominika MIHÁLIKOVÁ

Gervais B. NDIFFO YEMELI

Slavomir PÁSZTOR

Martin SELVEK

Dominika SERSENOVÁ


Alumni
Daniela BARTKOVÁ

Hana BUCHHOLCEROVÁ

Veronika DRENINOVÁ, born Biskupičová

Lukáš DVONČ

Július GÁLIK

Dušan GIERTL

Paulína HALUŠKOVÁ

Lenka CHLÁDEKOVÁ

Karolína JANÍKOVÁ

Igor JEDLOVSKÝ

Matej KINTLER

Matej KOVÁČ

Zuzana KOVAĽOVÁ, born Šipoldová

Daniela KUNECOVÁ

Lenka LEŠTINSKÁ

Michal LEŠTINSKÝ

Pavol MIŠENKO

Matej MOLNÁR

Adriana NIKLOVÁ

Samuel OMASTA

Lucia PAKOSOVÁ

Marek PAVLE

Michal PELACH

Adam POLAKOVIČ

Branislav PONGRÁC

Milan PRAČKO

Diana RAČKOVÁ

Jozef SIČ

Lucia STRIŽENCOVÁ

Anna SUČANSKÁ

Barbora TARABOVÁ

Pavol VALOVIČ

Martina VELÍSKOVÁ

Veronika ZÁŇOVÁ

Juraj ZIGO

Andrea ŽILKOVÁ