Bratislava
Bratislava is the capital of Slovakia and, with a population of about 500,000, the country's largest city. It is located in southwestern Slovakia, occupying both banks of the River Danube and the left bank of the River Morava. Bordering Austria and Hungary, it is the only national capital that borders two independent countries. Bratislava is the political, cultural and economic centre of Slovakia.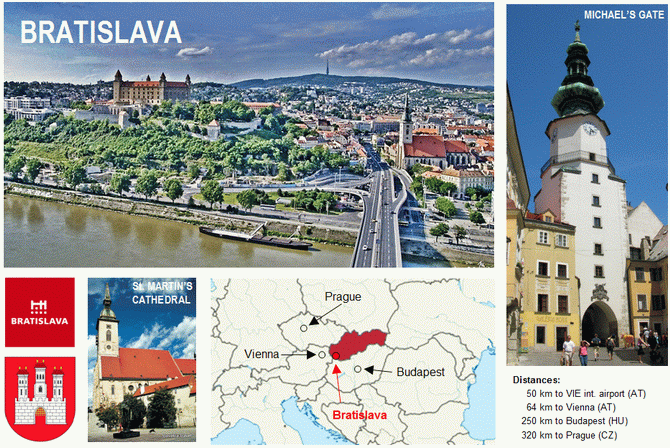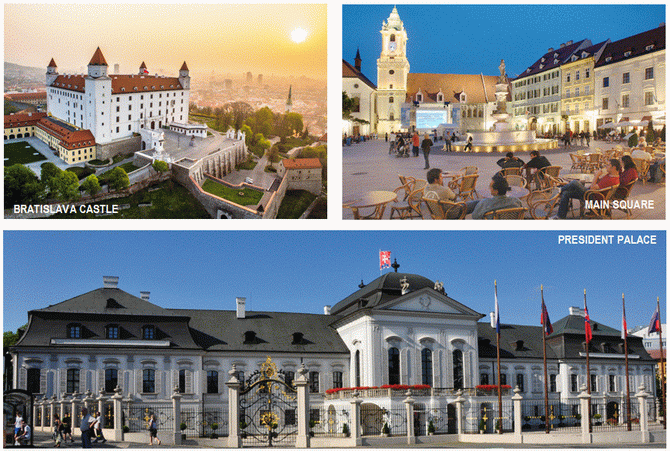 The history of the city has been strongly influenced by people of different nations and religions, namely by Austrians, Czechs, Hungarians, Jews, Serbs and Slovaks. The city was the capital of the Kingdom of Hungary, a part of the larger Habsburg Monarchy territories, from 1536 to 1783 and has been home to many Slovak, Hungarian and German historical figures.



---
Slovakia
Slovakia is a country in Central Europe. Its territory spans about 49,000 square kilometers and its population comprising mostly ethnic Slovaks is over 5 million. The official language is Slovak, a member of the Slavic language family. The Slavs arrived in the territory of present-day Slovakia in the 5th and 6th centuries. In the 10th century, the territory was integrated into the Kingdom of Hungary, which later became the Austro-Hungarian Empire. After World War I and the dissolution of the Austro-Hungarian Empire, the Slovaks and Czechs established Czechoslovakia. Slovakia became an independent state on 1 January 1993 after the peaceful dissolution of Czechoslovakia.
Slovakia is a high-income advanced economy. The country joined the European Union in 2004 is a member of the Schengen Area, NATO and the United Nations.