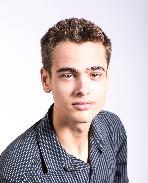 Slavomir PÁSZTOR
Bc. student




Bc. study
2017 - 2019

Supervisor: Viktor Martišovitš
Consultant: --
Title:
Testing plasma activated water for the therapy of urinary tract infections
Abstract:
In this bachelor thesis we tested the effects of plasma activated water (PAW) in the treatment of urinary tract infections. We compared the effects of PAW with control saline solution (PHYS 0,15 M NaCl PBS-Phosphate Buffered Saline). We observed the inhibitory effect of PAW on bacterial proliferation at different concentrations of bacteria and at different ratios between PAW/PHYS and the bacteria in liquid nutrient medium. These experiments were performed on uropatogenic strain of Escherichia coli (UTI). Testing was done in two models of experiments. The first model was in vitro testing, which was performed in 96-well microtiter plates, in which the absorbance of the samples corresponding to the number of bacteria was measured spectrophotometrically. The second model was in vivo testing, performed on female mice. We infected mice and then applied PAW/PHYS. After a specified time, we removed the bladder and kidneys from mice, which we subsequently homogenized and sown the homogenate on Petri dishes with nutrient medium, in which we counted the grown colonies after the incubation time. We quantitatively evaluated the effect of PAW in living organisms. The results of in vitro experiments show that PAW is the most effective disinfectant when it is found in a sample in volume predominance. At a 1:9 ratio (UTI:PAW), when PAW accounted for 90% of the sample volume, we achieved the best results. This means that the number of bacteria in the samples with PAW, compared to the samples with PHYS, did not increase over time or that the difference between the two samples was significant after eight-hour incubation, at which the values for PAW were lower. The results of the in vivo experiment demonstrated that PAW had an effect in inhibiting bacterial proliferation in mouse bladder, as can be seen from the logarithmic reduction results for PAW and PHYS groups and difference between them which was 1 log. Based on this, we assume that PAW has prevented the development of the kidney infection and by that we have met one of the aims of this work.
Active
Mária CÍBIKOVÁ

Richard CIMERMAN

Mostafa E. HASSAN

Axel HENNECKE

Patrícia IVANOVÁ

Katarína KUČEROVÁ, born Tarabová

Emanuel MAŤÁŠ

Robin MENTHÉOUR

Gervais B. NDIFFO YEMELI

Slavomir PÁSZTOR

Marek PAVLE

Martin SELVEK

Dominika SERSENOVÁ

Barbora TARABOVÁ


Alumni
Daniela BARTKOVÁ

Hana BUCHHOLCEROVÁ

Veronika DRENINOVÁ, born Biskupičová

Lukáš DVONČ

Július GÁLIK

Dušan GIERTL

Paulína HALUŠKOVÁ

Lenka CHLÁDEKOVÁ

Daniel JAKUBČIN

Karolína JANÍKOVÁ

Igor JEDLOVSKÝ

Matej KINTLER

Matej KOVÁČ

Zuzana KOVAĽOVÁ, born Šipoldová

Daniela KUNECOVÁ

Lenka LEŠTINSKÁ

Michal LEŠTINSKÝ

Dominika MIHÁLIKOVÁ

Pavol MIŠENKO

Matej MOLNÁR

Adriana NIKLOVÁ

Samuel OMASTA

Lucia PAKOSOVÁ

Michal PELACH

Adam POLAKOVIČ

Branislav PONGRÁC

Milan PRAČKO

Diana RAČKOVÁ

Jozef SIČ

Lucia STRIŽENCOVÁ

Anna SUČANSKÁ

Juraj ZIGO

Andrea ŽILKOVÁ