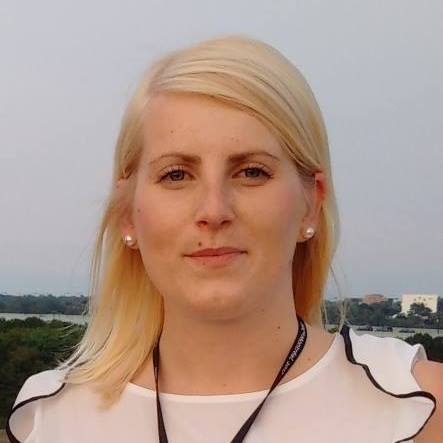 Barbora TARABOVÁ
PhD. student
Google Scholar Publons ORCID RG Scopus



PhD. study
2013 - 2018

Supervisor: Zdenko Machala
Consultant: --
Title:
Plasma activated water: chemical analysis of reactive species and antimicrobial effects
Abstract:


MSc. study
Supervisor: Zdenko Machala
Consultant: --
Title:

Abstract:
In this Master thesis we investigated bio-decontamination effects of cold non-equilibrium plasma generated by transient spark discharge in air at atmospheric pressure and chemical changes that were induced by the plasma affecting the water bacterial suspensions. We used a model organism - Gram negative (G-) Escherichia coli bacterial cells that formed a suspension in non-buffered aqueous solutions – saline solution and water (solution of NaH2PO4.2 H2O) with different conductivities. In both cases, we observed 100% decontamination effect 5 hours after plasma treatments. In these solutions, we observed a significant decrease in pH ~ 3 and an increase in conductivity. These chemical changes are caused by the formation of peroxides, nitrites NO2ˉ and nitrates NO3ˉ in water. For comparison, we have also worked with bacterial suspensions prepared in the buffers. We used phosphate buffer (PB) Na2HPO4.2 H2O + KH2PO4 and the same PB in saline solution (PBS). The observed decontamination effect was ~ 2 log immediately after treatment and ~ 4 log 5 hours later. At the same time there was no significant decrease in pH, indicating that the rate of decontamination is associated with the acidification of solutions. Non-equilibrium plasma in the presence of water vapor or water is a rich source of reactive species derived from oxygen (ROS) and nitrogen (RNS), which are responsible for oxidative cell damage and subsequent decontamination. The extent of oxidative damage was evaluated by the concentration c(TBARS) - thiobarbituric acid reactive substances. We found an increased degree of oxidative damage of bacteria in non-buffered aqueous solutions, in which high decontamination was observed. We observed the presence of hydrogen peroxide H2O2 and peroxynitrite ONOO ˉ as reactive species. We detected their increased presence in non-buffered aqueous solutions. They are probably responsible for the oxidative damage and a high decontamination rate in these solutions.

Bc. study
2009 - 2010

Supervisor: Zdenko Machala
Consultant: --
Title:
Oxidative damage of Gram positive bacteria by non-thermal plasmas
Abstract:

Active
Mária CÍBIKOVÁ

Richard CIMERMAN

Mostafa E. HASSAN

Axel HENNECKE

Patrícia IVANOVÁ

Katarína KUČEROVÁ, born Tarabová

Emanuel MAŤÁŠ

Robin MENTHÉOUR

Gervais B. NDIFFO YEMELI

Slavomir PÁSZTOR

Marek PAVLE

Martin SELVEK

Dominika SERSENOVÁ

Barbora TARABOVÁ


Alumni
Daniela BARTKOVÁ

Hana BUCHHOLCEROVÁ

Veronika DRENINOVÁ, born Biskupičová

Lukáš DVONČ

Július GÁLIK

Dušan GIERTL

Paulína HALUŠKOVÁ

Lenka CHLÁDEKOVÁ

Daniel JAKUBČIN

Karolína JANÍKOVÁ

Igor JEDLOVSKÝ

Matej KINTLER

Matej KOVÁČ

Zuzana KOVAĽOVÁ, born Šipoldová

Daniela KUNECOVÁ

Lenka LEŠTINSKÁ

Michal LEŠTINSKÝ

Dominika MIHÁLIKOVÁ

Pavol MIŠENKO

Matej MOLNÁR

Adriana NIKLOVÁ

Samuel OMASTA

Lucia PAKOSOVÁ

Michal PELACH

Adam POLAKOVIČ

Branislav PONGRÁC

Milan PRAČKO

Diana RAČKOVÁ

Jozef SIČ

Lucia STRIŽENCOVÁ

Anna SUČANSKÁ

Juraj ZIGO

Andrea ŽILKOVÁ