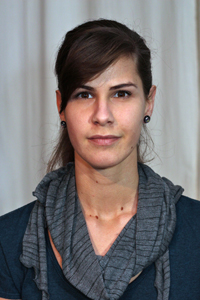 Katarína KUČEROVÁ, born Tarabová
PhD. student
RG Scopus



PhD. study
2014 - 2019

Supervisor: Karol Hensel
Consultant: --
Title:
Effects of atmospheric pressure cold discharge plasmas to bacteria and cell cultures
Abstract:


MSc. study
2012 - 2014

Supervisor: Karol Hensel
Consultant: --
Title:
Electrical discharge in aqueous medium, their biological and chemical effects
Abstract:
The objective of the work is to investigate pulsed discharges in an aqueous medium (above water surface, in water sprayed by electro-spray, etc) and evaluate their for an inactivation of selected bacteria and spores. The aim is to study not only electrical properties of the discharges, but mainly their bactericidal and chemical effects in air and water. Efficiency of inactivation of bacteria will be compared with chemical changes induced in the water. The production rate of various active species (eg O3, H2O2, NO2-, NO3-, ONOO-) will be examined as well as induced oxidative stress in bacteria by TBARS method.

Bc. study
2011 - 2012

Supervisor: Karol Hensel
Consultant: --
Title:
Biodecontamination by pulsed electrical discharges
Abstract:
In the presented work we focus on biodecontamination by low-temperature nonequilibrium plasma produced by pulsed electric discharges in atmospheric pressure air. Pulsed discharges were generated by rotary spark gap high-voltage power supply. The objective was to examine the pulsed discharges and their use for bio-decontamination of gram-positive spore forming bacteria Bacillus cereus, evaluate their efficiency and dependence on various parameters (amplitude and frequency of applied voltage, exposure time) and compare it with the results obtained with direct current power supply. Two types of discharges were tested – spark discharge and corona discharge. The effect of the spark discharge was tested on bacteria in solution by utilizing electrostatic atomization, while spores deposited on the surfaces were subjected to the corona discharge. Bacterial samples were cultivated on Petri dishes and evaluated by plate count method. The results showed that the biocidal effect of pulsed spark discharge was lower compared with the effect of transient spark discharge generated by a direct current voltage. On the other hand, the efficiency of the corona discharge generated by pulsed power supply was found to be 20% higher than one obtained with direct current power, with negative polarity to be more efficicent than positive one. The results demonstrate the positive potential of the pulsed discharge toward the deconamination of bacteria. However, to unequivocally confirm our results and determine the relationship of the efficiency and the amplitude and frequency of the pulses and exposure time, further experiments are needed.
Active
Mária CÍBIKOVÁ

Mostafa E. HASSAN

Axel HENNECKE

Daniel JAKUBČIN

Radoslav JANKOVIČ

Jana KŠANOVÁ

Katarína KUČEROVÁ, born Tarabová

Aleksandra Y. LAVRIKOVA

Jakub MASLÍK

Emanuel MAŤÁŠ

Robin MENTHÉOUR

Gervais B. NDIFFO YEMELI

Veronika OKRUHLICOVÁ

Slavomir PÁSZTOR

Dominika SERSENOVÁ

Patrik ŠTÍPALA

Peter TÓTH


Alumni
Mahdi ABEDIVARAKI

Daniela BARTKOVÁ

Hana BUCHHOLCEROVÁ

Richard CIMERMAN

Michal DAMEK

Veronika DRENINOVÁ, born Biskupičová

Lukáš DVONČ

Július GÁLIK

Dušan GIERTL

Paulína HALUŠKOVÁ

Lenka CHLÁDEKOVÁ

Patrícia IVANOVÁ

Karolína JANÍKOVÁ

Igor JEDLOVSKÝ

Matej KINTLER

Matej KOVÁČ

Zuzana KOVAĽOVÁ, born Šipoldová

Daniela KUNECOVÁ

Lenka LEŠTINSKÁ

Michal LEŠTINSKÝ

Dominika MIHÁLIKOVÁ

Pavol MIŠENKO

Matej MOLNÁR

Adriana NIKLOVÁ

Samuel OMASTA

Lucia PAKOSOVÁ

Marek PAVLE

Michal PELACH

Adam POLAKOVIČ

Branislav PONGRÁC

Milan PRAČKO

Diana RAČKOVÁ

Martin SELVEK

Jozef SIČ

Lucia STRIŽENCOVÁ

Anna SUČANSKÁ

Barbora TARABOVÁ

Pavol VALOVIČ

Martina VELÍSKOVÁ

Veronika ZÁŇOVÁ

Juraj ZIGO

Andrea ŽILKOVÁ