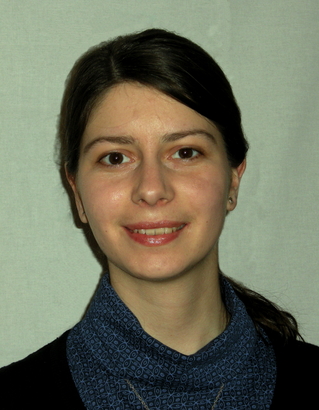 Zuzana KOVAĽOVÁ, born Šipoldová
alumni student




PhD. study
2012 - 2016

Supervisor: Zdenko Machala
Consultant: Emmanuel Odic
Title:
Bio-decontamination of biofilms on surfaces by cold plasma
Abstract:
In this PhD thesis, biomedical applications of low-temperature plasmas at atmospheric pressure are investigated. In particular, bio-decontamination of planktonic bacteria and bacterial biofilms on both flat and complex surfaces by direct current (DC) air corona discharges and by pulsed discharges in argon is considered. We first provide a theoretical overview of biofilms, plasmas, and the current state of knowledge on bio-decontamination by low temperature plasma, as well as methods presently used for biofilm decontamination in the plasma medicine domain. We characterize three plasma sources for the decontamination of Escherichia coli bacteria and biofilm. DC corona discharges in air - positive streamer corona and negative Trichel pulses were used for decontamination of planktonic bacteria and bacterial biofilms. In some experiments water was electrosprayed onto samples from a high voltage (HV) electrode. Stable reactive species were identified in the gas phase by Fourier transform infrared spectroscopy (FTIR) and the concentration of reactive oxygen and nitrogen species was measured in the electrosprayed water. Bio-decontamination of bacterial biofilms was carried out on glass cover slides. Within 15 min of the plasma treatment, most of the bacteria were rendered uncultivable. Some of the uncultivable bacteria remained viable, only bacteria in the top layers of the biofilm were killed, as demonstrated by a confocal laser scanning microscopy (CLSM) of biofilms stained by live/dead viability kit. Water electrospray through the corona discharges significantly improves the biofilm inactivation and disintegrates the polymeric protective matrix of the biofilm. The second plasma source investigated was the pulsed corona discharge propagated inside long narrow quartz tubes, in which dry argon or argon with water vapor were flowing at atmospheric pressure. This type of discharge has a potential application in decontamination of inner surfaces of catheters or other long tubular devices, and could be able to deliver low-temperature plasma over longer distances inside the human body. This pulsed corona discharge was characterized by its electrical parameters, such as the discharge propagation velocity and the mean electric field in the plasma channel. Optical emission spectroscopy of such plasma identified UV B emission form excited hydroxyl radicals, especially with humid argon working gas. The effect of this UV B was tested on planktonic bacteria sensitive to UV damage (recA-), and was found to cause a substantial damage even to bacteria placed far downstream in the tube or on the outer surface of the tube. The third plasma source tested was an argon jet based on cylindrical dielectric barrier discharge with dry, humid or water saturated argon as a working gases. This discharge was used for biofilm decontamination, where we obtained similar results as with DC corona discharges – strong inactivation of biofilm bacteria determined from the cultivability tests and biofilm thickness shrinkage shown by CLSM. We used this discharge to test the effect of vacuum UV on bacterial survival, but the effect was neither confirmed nor disproved.

MSc. study
2010 - 2012

Supervisor: Zdenko Machala
Consultant: --
Title:
Bio-decontamination of teeth and plastic surfaces by cold plasma of corona discharge
Abstract:
The bio-decontamination of Streptococci biolm on teeth and plastic surfaces is the main interest of this work. For this purpose, we used cold plasma of two corona discharges: positive streamer corona and negative Trichel pulses. We show that decontamination by these atmospheric pressure air DC discharges is a new ecient method for biolm elimination from teeth and plastic surfaces. We also tested positive transient spark, though it was not suitable for expositions longer than 2 minutes. Corona reduced bacterial population (evaluated by log10) on contaminated teeth by 2.73 orders of magnitude in 10 min exposure time in average. The same discharges were also tested with the electrospraying of water through a hollow needle - high voltage electrode. Enhancement of plasma biocidal eects by water spraying was investigated. Our results display that reduction of bacterial population without water spraying on plastic and teeth were similar - around 1 log (e.g. 90%). Water spraying increased the bacterial reduction up to 4 logs with both types of samples. An analysis of tooth surfaces after plasma treatment was made by visualisation of treatment surface with a scanning electron microscope (SEM) and spectroscopic analysis with Fourier transform infrared spectroscopy (FTIR) and energydispersive X-ray analysis (EDX). We found small changes in the morphology and the sample composition caused by exposition to plasma for 10 min on SEM images and EDX spectra. However, these results are not nal and require further investigations.

Bc. study
2009 - 2010

Supervisor: Zdenko Machala
Consultant: --
Title:
Bio-decontamination of surfaces from bacterial spores in electric discharges
Abstract:

Active
Mária CÍBIKOVÁ

Mostafa E. HASSAN

Axel HENNECKE

Daniel JAKUBČIN

Radoslav JANKOVIČ

Jana KŠANOVÁ

Katarína KUČEROVÁ, born Tarabová

Aleksandra Y. LAVRIKOVA

Jakub MASLÍK

Emanuel MAŤÁŠ

Robin MENTHÉOUR

Gervais B. NDIFFO YEMELI

Veronika OKRUHLICOVÁ

Slavomir PÁSZTOR

Dominika SERSENOVÁ

Patrik ŠTÍPALA

Peter TÓTH


Alumni


Daniela BARTKOVÁ

Hana BUCHHOLCEROVÁ

Richard CIMERMAN

Veronika DRENINOVÁ, born Biskupičová

Lukáš DVONČ

Július GÁLIK

Dušan GIERTL

Paulína HALUŠKOVÁ

Lenka CHLÁDEKOVÁ

Patrícia IVANOVÁ

Karolína JANÍKOVÁ

Igor JEDLOVSKÝ

Matej KINTLER

Matej KOVÁČ

Zuzana KOVAĽOVÁ, born Šipoldová

Daniela KUNECOVÁ

Lenka LEŠTINSKÁ

Michal LEŠTINSKÝ

Dominika MIHÁLIKOVÁ

Pavol MIŠENKO

Matej MOLNÁR

Adriana NIKLOVÁ

Samuel OMASTA

Lucia PAKOSOVÁ

Marek PAVLE

Michal PELACH

Adam POLAKOVIČ

Branislav PONGRÁC

Milan PRAČKO

Diana RAČKOVÁ

Martin SELVEK

Jozef SIČ

Lucia STRIŽENCOVÁ

Anna SUČANSKÁ

Barbora TARABOVÁ

Pavol VALOVIČ

Martina VELÍSKOVÁ

Veronika ZÁŇOVÁ

Juraj ZIGO

Andrea ŽILKOVÁ