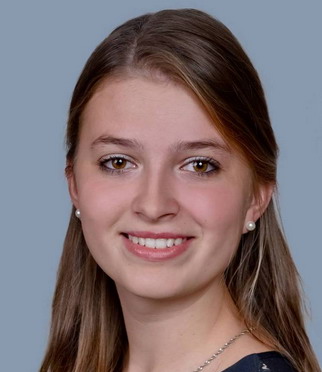 Mária CÍBIKOVÁ
MSc. student




MSc. study
2019 - 2021

Supervisor: Karol Hensel
Consultant: Richard Cimerman
Title:
Selected aspects of naphthalene removal in plasma and catalyst systems
Abstract:


Bc. study
2018 - 2019

Supervisor: Karol Hensel
Consultant: Richard Cimerman
Title:
The effect of BaTiO3 a ZrO2 on naphtalene removal by plasma catalysis
Abstract:
Biomass is one of the alternative sources which can be used to produce energy without using fossil fuels that are harmful to a human health and have unfavorable environmental impact. Energy can be obtained by gasification or combustion processes of the biomass. The gasification leads to production of syngas, that also contains pollutants including tars. The tars inhibit the syngas utilization and it is necessary to remove them. In the process of combustion of biomass, pollutants are also produced including tars, although in much smaller amounts, but still they must be removed. Tars are a mixture of hydrocarbons with one or more benzene rings. They are highly toxic, carcinogenic, and may cause many technical problems in devices. The tars produced by gasification must be removed by using reduction process in order not to degrade the syngas. Tars formed in the combustion process can be removed also by oxidation processes as exhaust gas has no value and only gas cleaning before its release to the atmosphere is necessary. In this study we dealed with the removal of tar by using plasma combined with ZrO2 and BaTiO3 catalysts in the form of pellets. Naphthalene was used as a model polyaromatic tar compound. Firstly we studied the electric and optical characteristics of plasma-catalytic reactors. Next we observed chemical changes in the gas caused by dicharge combined with catalyst for different frequencies and amplitudes of the applied voltage. We analyzed naphthalene removal efficiency and formation of the gaseous and solid by-products by using infrared and X-ray spectroscopy. The results show that the plasma-catalysis is more efficient in naphthalene removal as well as have better selectivity in comparison to plasma. BaTiO3 was more efficient than ZrO2 with higher frequency and lower energy were used. When tested repeatedly, BaTiO3 shown better durability and catalytic activity as well. On the other hand ZrO2 was very efficient in combination with lower frequency and had better absorption properties. Aside from that we also noticed higher production rate of desired products. In general we can conclude that plasma combined with catalyst has high efficiency and it can be considered to be effective method of tars removal.
Active
Mária CÍBIKOVÁ

Mostafa E. HASSAN

Axel HENNECKE

Daniel JAKUBČIN

Radoslav JANKOVIČ

Jana KŠANOVÁ

Katarína KUČEROVÁ, born Tarabová

Aleksandra Y. LAVRIKOVA

Jakub MASLÍK

Emanuel MAŤÁŠ

Robin MENTHÉOUR

Gervais B. NDIFFO YEMELI

Veronika OKRUHLICOVÁ

Slavomir PÁSZTOR

Dominika SERSENOVÁ

Patrik ŠTÍPALA

Peter TÓTH


Alumni


Daniela BARTKOVÁ

Hana BUCHHOLCEROVÁ

Richard CIMERMAN

Veronika DRENINOVÁ, born Biskupičová

Lukáš DVONČ

Július GÁLIK

Dušan GIERTL

Paulína HALUŠKOVÁ

Lenka CHLÁDEKOVÁ

Patrícia IVANOVÁ

Karolína JANÍKOVÁ

Igor JEDLOVSKÝ

Matej KINTLER

Matej KOVÁČ

Zuzana KOVAĽOVÁ, born Šipoldová

Daniela KUNECOVÁ

Lenka LEŠTINSKÁ

Michal LEŠTINSKÝ

Dominika MIHÁLIKOVÁ

Pavol MIŠENKO

Matej MOLNÁR

Adriana NIKLOVÁ

Samuel OMASTA

Lucia PAKOSOVÁ

Marek PAVLE

Michal PELACH

Adam POLAKOVIČ

Branislav PONGRÁC

Milan PRAČKO

Diana RAČKOVÁ

Martin SELVEK

Jozef SIČ

Lucia STRIŽENCOVÁ

Anna SUČANSKÁ

Barbora TARABOVÁ

Pavol VALOVIČ

Martina VELÍSKOVÁ

Veronika ZÁŇOVÁ

Juraj ZIGO

Andrea ŽILKOVÁ