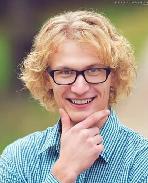 Emanuel MAŤÁŠ
MSc. student




MSc. study
2019 - 2021

Supervisor: Richard Cimerman
Consultant: Karol Hensel
Title:
Potential of surface barrier discharge for plasma generation in automotive catalysts
Abstract:


Bc. study
2018 - 2019

Supervisor: Richard Cimerman
Consultant: Karol Hensel
Title:
Electrical and optical characteristics of surface barrier discharge generated in micro-hollow honeycomb ceramic element
Abstract:
This work deals with diagnostics of surface dielectric barrier discharge generated by the perforated ceramic substrate. The structure of the substrate consisted of two electrodes mutually separated by the dielectric (ceramics). The electrode placed on the surface of the ceramics was powered by AC high voltage while the second one was embedded inside. The substrate was perforated, it contained 170 holes that enable gases to flow through them. The main objective of the work was to study the electrical and optical characteristics of generated discharge and to evaluate its chemical activity by FTIR absorption spectroscopy and UV absorption. The secondary objective of the work was to compare the characteristics of the discharge generated by two different substrates – the former one had an air-exposed electrode while the latter one had both electrodes embedded within the ceramics. Firstly, the theory related to principles of non-thermal plasma generation by electrical discharges at ambient pressure was discussed. Mentioned ways of plasma generation were mainly dedicated to dielectric barrier discharges and their applications. The second part of our thesis is focused on description of the experimental work. We were evaluating the characteristics of the studied discharge at different conditions like gas flow rate, gas mixture, frequency and amplitudes of the applied voltage. Within the electrical measurements we evaluated the discharge power, amplitude and total number of current pulses. We also measured the intensity of the discharge radiation by means of optical emission spectroscopy methods. Within the discharge chemical activity (i. e. the changes in the chemical composition of gases treated by the studied discharge) the production of O3, N2O and HNO3 was evaluated. The results of the work are linked to the discussion in which we compared obtained results with the results of other works. We also described the effects of individual parameters on the discharge characteristics. The results showed that the discharge is the most stable in the dry air (in terms of electrical and optical discharge characteristics). With the increase of air relative humidity the discharge was less stable and inhomogeneous. The discharge under study generated by perforated ceramic substrate could have many practical applications because it enables more efficient treatment of gases by generated plasma. Therefore, the discharge can be potentially used for exhaust gas cleaning applications.
Active
Mária CÍBIKOVÁ

Mostafa E. HASSAN

Axel HENNECKE

Daniel JAKUBČIN

Radoslav JANKOVIČ

Jana KŠANOVÁ

Katarína KUČEROVÁ, born Tarabová

Aleksandra Y. LAVRIKOVA

Jakub MASLÍK

Emanuel MAŤÁŠ

Robin MENTHÉOUR

Gervais B. NDIFFO YEMELI

Veronika OKRUHLICOVÁ

Slavomir PÁSZTOR

Dominika SERSENOVÁ

Patrik ŠTÍPALA

Peter TÓTH


Alumni


Daniela BARTKOVÁ

Hana BUCHHOLCEROVÁ

Richard CIMERMAN

Veronika DRENINOVÁ, born Biskupičová

Lukáš DVONČ

Július GÁLIK

Dušan GIERTL

Paulína HALUŠKOVÁ

Lenka CHLÁDEKOVÁ

Patrícia IVANOVÁ

Karolína JANÍKOVÁ

Igor JEDLOVSKÝ

Matej KINTLER

Matej KOVÁČ

Zuzana KOVAĽOVÁ, born Šipoldová

Daniela KUNECOVÁ

Lenka LEŠTINSKÁ

Michal LEŠTINSKÝ

Dominika MIHÁLIKOVÁ

Pavol MIŠENKO

Matej MOLNÁR

Adriana NIKLOVÁ

Samuel OMASTA

Lucia PAKOSOVÁ

Marek PAVLE

Michal PELACH

Adam POLAKOVIČ

Branislav PONGRÁC

Milan PRAČKO

Diana RAČKOVÁ

Martin SELVEK

Jozef SIČ

Lucia STRIŽENCOVÁ

Anna SUČANSKÁ

Barbora TARABOVÁ

Pavol VALOVIČ

Martina VELÍSKOVÁ

Veronika ZÁŇOVÁ

Juraj ZIGO

Andrea ŽILKOVÁ