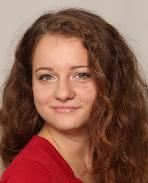 Martina VELÍSKOVÁ
alumni student




Bc. study
2017 - 2018

Supervisor: Zdenko Machala
Consultant: Július Hodossy
Title:
Testing of the possibilities of plasma activated water in wound healing
Abstract:
The main objective of this work was to study lethal or inhibiting effects of water activated by cold plasma of spark discharge on bacteria and the possibility to use it for wound disinfection. We used a spectrophotometric methods to measure changes in absorbance of various dilutions in 96-well plates in time. The wells contained skin bacteria and we compared the effects of plasma activated water (PAW) and physiological solution which is nowadays used for disinfection of surface wounds. The increasing absorbance indicated the increasing concentration of bacteria in dilution, which indicates that the bacteria were multiplying. For quantitative evaluation we used Petri dishes with agar to count colonies that grew on agar after PAW or physiological solution affected the bacteria. Results of experiments of absorbance measurements show that PAW is more effective in inhibition of bacterial reproduction when it affects not so much diluted bacteria for 10 minutes. The difference between PAW and physiological solution is observable after shorter period of time (two hours) with 10 minutes influence, while after affecting bacteria for 30 minutes or after affecting more diluted bacteria the inhibition effects are observable after 24 hours. Results of experiments with Petri dishes show that PAW is more efficient in inactivating skin bacteria (compared to physiological solution) when affecting bacteria for shorter times – after 10 minutes PAW is 5 – 10% more effective than physiological solution. However, the largest logarithmic reduction was observed after 30 minutes of PAW affecting bacteria compared to physiological solution. If bacteria are diluted enough, the logarithmic reduction of PAW (3,22) was much stronger than the logarithmic reduction in physiological solution (1,75).
Active
Mária CÍBIKOVÁ

Mostafa E. HASSAN

Axel HENNECKE

Daniel JAKUBČIN

Radoslav JANKOVIČ

Jana KŠANOVÁ

Katarína KUČEROVÁ, born Tarabová

Aleksandra Y. LAVRIKOVA

Jakub MASLÍK

Emanuel MAŤÁŠ

Robin MENTHÉOUR

Gervais B. NDIFFO YEMELI

Veronika OKRUHLICOVÁ

Slavomir PÁSZTOR

Dominika SERSENOVÁ

Patrik ŠTÍPALA

Peter TÓTH


Alumni


Daniela BARTKOVÁ

Hana BUCHHOLCEROVÁ

Richard CIMERMAN

Veronika DRENINOVÁ, born Biskupičová

Lukáš DVONČ

Július GÁLIK

Dušan GIERTL

Paulína HALUŠKOVÁ

Lenka CHLÁDEKOVÁ

Patrícia IVANOVÁ

Karolína JANÍKOVÁ

Igor JEDLOVSKÝ

Matej KINTLER

Matej KOVÁČ

Zuzana KOVAĽOVÁ, born Šipoldová

Daniela KUNECOVÁ

Lenka LEŠTINSKÁ

Michal LEŠTINSKÝ

Dominika MIHÁLIKOVÁ

Pavol MIŠENKO

Matej MOLNÁR

Adriana NIKLOVÁ

Samuel OMASTA

Lucia PAKOSOVÁ

Marek PAVLE

Michal PELACH

Adam POLAKOVIČ

Branislav PONGRÁC

Milan PRAČKO

Diana RAČKOVÁ

Martin SELVEK

Jozef SIČ

Lucia STRIŽENCOVÁ

Anna SUČANSKÁ

Barbora TARABOVÁ

Pavol VALOVIČ

Martina VELÍSKOVÁ

Veronika ZÁŇOVÁ

Juraj ZIGO

Andrea ŽILKOVÁ