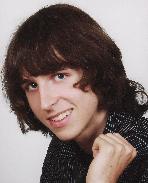 Richard CIMERMAN
PhD. student
Google Scholar Publons ORCID RG



PhD. study
2016 - 2019

Supervisor: Karol Hensel
Consultant: --
Title:
Exhaust gas cleaning by combination of plasma and catalyst
Abstract:


MSc. study
Supervisor: Marcela Morvová
Consultant: --
Title:
The study on the processes of the heat production and storage using phase change materials
Abstract:
This paper focuses on processes of the heat production and storage when emphasising utilization of solar thermal energy and its subsequent accumulation by experimental latent thermal energy storage charged with phase change material. In this work, this latent thermal energy storage was constructed and put into operation. Throughout the whole year, daily thermal gains and mean daily thermal power outputs of solar thermal collectors were measured. Acquired experimental measurements provide a base for an assessment of efficiency and effectiveness of the solar collectors in real conditions and not only by an estimative calculation. Moreover, during the same period, the other experimental data on properties and parameters of various thermal energy storages also places in our experimental system, were gathered, evaluated and interpreted. Finally, experimental analysis and comparison of different storage material patterns was realized in order to find the most appropriate composition and properties of this storage material, especially the thermal conductivity and the heat storage capacity.

Bc. study
2010 - 2013

Supervisor: Marcela Morvová
Consultant: --
Title:
Study of heat storage processes using phase change materials
Abstract:
This bachelor thesis is devoted to processes and methods using in thermal energy storage focusing on phase change materials. Particular processes and methods are described and we are also discussing their advantages and disadvantages. Firstly, theoretical part of this thesis treats of keystones of the thermodynamics, heat transfer theory and heat pumps. Consequently, experimental part is focused on the waste heat. It is based on measurement and analysis of respective results of the waste heat production performed at Faculty of mathematics, physics and informatics of Comenius University. The conclusion of thesis relates to project of waste heat storage system. In general, an overall aim of this thesis is to show new, suitable and alternative form of using and acquisition of thermal energy in terms of an approach friendly to environment.
Active
Mária CÍBIKOVÁ

Richard CIMERMAN

Mostafa E. HASSAN

Axel HENNECKE

Patrícia IVANOVÁ

Daniel JAKUBČIN

Katarína KUČEROVÁ, born Tarabová

Aleksandra Y. LAVRIKOVA

Emanuel MAŤÁŠ

Robin MENTHÉOUR

Dominika MIHÁLIKOVÁ

Gervais B. NDIFFO YEMELI

Slavomir PÁSZTOR

Martin SELVEK

Dominika SERSENOVÁ


Alumni
Daniela BARTKOVÁ

Hana BUCHHOLCEROVÁ

Veronika DRENINOVÁ, born Biskupičová

Lukáš DVONČ

Július GÁLIK

Dušan GIERTL

Paulína HALUŠKOVÁ

Lenka CHLÁDEKOVÁ

Karolína JANÍKOVÁ

Igor JEDLOVSKÝ

Matej KINTLER

Matej KOVÁČ

Zuzana KOVAĽOVÁ, born Šipoldová

Daniela KUNECOVÁ

Lenka LEŠTINSKÁ

Michal LEŠTINSKÝ

Pavol MIŠENKO

Matej MOLNÁR

Adriana NIKLOVÁ

Samuel OMASTA

Lucia PAKOSOVÁ

Marek PAVLE

Michal PELACH

Adam POLAKOVIČ

Branislav PONGRÁC

Milan PRAČKO

Diana RAČKOVÁ

Jozef SIČ

Lucia STRIŽENCOVÁ

Anna SUČANSKÁ

Barbora TARABOVÁ

Pavol VALOVIČ

Martina VELÍSKOVÁ

Veronika ZÁŇOVÁ

Juraj ZIGO

Andrea ŽILKOVÁ